Welcome to Ignition Lane's Weekly Wrap, where they cut through the noise to bring you their favourite insights from the technology and startup world. Ignition Lane works with ambitious business leaders to apply the Startup Mindset to their technology, product and commercialisation problems. 
This wrap goes out free to subscribers every Saturday. Don't forget you can catch Gavin Appel discussing the week on the Startup Daily show on Ausbiz every Monday at 2pm. If you miss it, you can catch up on the week's shows here.
Here's their review of the week. 
---
Get the popcorn
Nascar, but in airspace. Electric flying race car, Alauda Mk3, took its first test flights in South Australia. The four-metre-long multicopter weighs 130kgs and can reach top speeds of 200 km/h, accelerating from 0-100km/h in 2.8 seconds. Now founder Matthew Pearson is gearing up to hold a flying car race, 'Airspeeder'.
The eVTOL-taxi industry is also taking off. This week the NY Times profiled key startups in Silicon Valley's airtaxi industry, including Joby (which is merging with a SPAC backed by LinkedIn cofounder Reid Hoffman) and Kitty Hawk (backed by Google cofounder Larry Page). Kitty Hawk's Heaviside vehicle uses half the energy of a Tesla, is 35 decibels at cruising and has a 160km range at 290 km/h. Who needs traffic when you're a billionaire?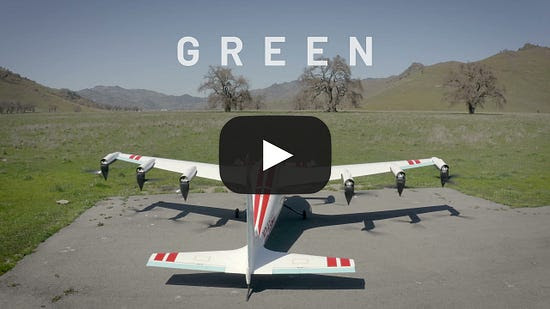 Time for new tagline? Heads are rolling at Nuix over accusations of deception. This week CEO Rod Vawdrey agreed to step down and CFO Stephen Doyle was terminated "by mutual agreement." Nuix missed its prospectus forecast, twice downgrading guidance since its hyped IPO in December. Then there are the reports of shoddy governance, dodgy accounting practice and stodgy culture. Plus, its former Chair is the subject of an Australian Federal Police (AFP) probe. Not exactly living up to its tagline, 'Finding Truth in a Digital World.'
Now politicians are chiming in. A NSW senator questioned why ASIC failed to follow up with a whistleblower who detailed disclosure issues in the Nuix prospectus. The senator also suggested that, given she is the ex-General Counsel of Nuix's biggest investor (Macquarie), Cathie Armour was conflicted in her role as ASIC Commissioner.
ASIC's Chairman snapped back saying the regulator "isn't there to warrant the truth of what's in the prospectus, that's the responsibility of the directors." Not wrong. And as to the Commissioner's conflict with Macquarie? "It was 8 years ago, alright. Let it go." (Paraphrasing with reference to this highly-relevant NZ-famous bread ad). ASIC confirmed it has "a couple of [Nuix] inquiries ongoing."
More CDN outages. Last week CDN Fastly brought down the internet. This week it was Akamai's turn. CBA, Westpac, and ANZ, Australia Post and Virgin Australia were amongst the companies affected.
---
Investor news
Trendy. Some trends in 2021: 1) International VCs swooping into Australia. 2) Institutional investors creep earlier and earlier into deals. 3) The rise of operator-community VC.
Fitting into trend 1 and 3 is The Fund, which was founded out of NY and this week launched in Australia. The Fund Australia aims to raise US$3.5m (AU$4.6m) from local startup founders and leaders. A bit of a side hustle, its investment committee is made up of Elicia McDonald (Principal, AirTree); Georgia Vidler (ex-Head of Product, Canva); Todd Deacon (MD, Techstars); and Adrian Peterson (Cofounder, Afterwork Ventures).
Investible raised $35m for its second fund. It aims to raise $50m in total. Its portfolio includes RentalHeroes, Work180, JigSpace, AirRobe and Bellabox. Top tip if you're looking to raise from Investible, factor its Investibility Index into your pitch:
---
Aussie raise announcements
Algotrading platform Unhedged and Bubble Tea Club's crowdfunding campaigns are going strong, each raising over $1.3m so far.
Mooven raised $5m led by EVP. Mooven provides detailed insights into the effects of infrastructure projects on surrounding communities.
Grounded raised $5m for its sustainable packaging solutions.
Vitable raised $5.5m for its vitamin supplement subscription offering.
InstantScripts raised $10.9m led by Perennial. InstantScripts provides telehealth consultations and e-scripts for common medications. Scripts are checked over by a GP and sent to the customer's pharmacy of choice.
Honey Insurance raised $15.5m from RACQ (the insurer is also underwriting Honey), PEXA, Metricon and others in "the biggest ever seed funding raise for an Australian tech company." Honey uses data to simplify the process of applying for home and contents insurance. It also provides customers with smart home sensors, offering lower premiums if people take extra precautions on their security.
OCR Labs raised €12.5 (nearly AU$20m) led by Turkish pension fund Oyak Group. OCR Lab's verification product helps businesses with digital ID verification, customer onboarding, identity fraud and regulatory compliance.
Ena Respiratory raised $32m for its nasal spray product intended to protect vulnerable people from COVID-19 and other respiratory viral infections.
Pre seed startup VS growth startup pic.twitter.com/rTurJFhcOH

— Trace Cohen pre/seed (@Trace_Cohen) June 11, 2021
For our readers not deep into startup lingo: MVP = minimum viable product; PMF = product market fit (when your product reaches the point where it satisfies a strong market demand).
---
The world's biggest fintechs, VCs and philanthropists
Europe's most valuable private fintech. Klarna raised another US$639m led by SoftBank's Vision Fund 2 at a whopping post-money valuation of $45.6bn (Afterpay's market cap is a mere $25bn and US-listed Affirm's is $18bn). What's perhaps more staggering is the speed at which Klarna's valuation is growing. It's a 47.3% increase over Klarna's post-money val of $31bn in early March, (it raised $1bn), and a 330% increase over its $10.6bn val from last September (it raised $650m).
The most valuable private US tech company. Stripe flexed its gunz in its keynote this week:
173 billion API requests in the last 12 months. That's 21 million requests every hour and 350k every minute.
99.999% uptime even over the busiest of periods (Black Friday).
Operating in 44 countries. Thanks to its acquisition of Paystack, that list includes Nigeria where it processes more than half of all online transactions.
High-quality new product velocity: Identity verifies identities; Stripe Reader – in-person payment hardware (looks similar to Square but "isn't really a Square competitor"); Stripe Tax automatically collects sales tax and VAT on Stripe transactions, complementing TaxJar (sales tax compliance automation) which it acquired in April.
Truly impressive.
Want a piece of pre-IPO Stripe? Buy Shopify. Yup, Shopify along with Sequoia and other investors recently participated in a $1b secondary sale of Stripe shares ahead of a potential IPO this year.
The biggest VC builds a media empire. Mega VC Andreessen Horowitz (a16z) officially launched its media property, Future. Lots of interesting content. Much of which is written by a16z portfolio founders, including Stripe's Patrick Collison.
The biggest solo VC. The Twenty Minute VC podcaster Harry Stebbings raised US$140m – one of the biggest funds run by a solo VC partner of all time.
The world's most generous billionaire. While the world's second richest man Jeff Bezos flies off to space, his ex-wife MacKenzie Scott is busy giving away a further US$2.7bn to "high-impact organizations in categories and communities that have been historically underfunded and overlooked" (that means an emphasis on racial justice, women's rights and LGBTQ equality). In total, she has given away $8.5bn in no-strings-attached donations.
According to Scott, "It would be better if disproportionate wealth were not concentrated in a small number of hands."
---
That's a wrap! We hope you enjoyed it.
Bex, Gavin and the team at Ignition Lane