Welcome to Ignition Lane's Weekly Wrap, where they cut through the noise to bring you their favourite insights from the technology and startup world. Ignition Lane works with ambitious business leaders to apply the Startup Mindset to their technology, product and commercialisation problems. 
This wrap goes out free to subscribers every Saturday morning. Don't forget you can catch Gavin Appel discussing the week on the Startup Daily show on Ausbiz. If you miss it, you can catch up on the week's shows here.
Here's their review of the week. 
What's the haps, ANZ?
A kiwicorn! Seequent (fka ARANZ Geo) is being acquired by NASDAQ-listed Bentley Systems for US$1.05b. Seequent specialises in geological and geophysical modelling. Seequent's software is used for large-scale civil engineering projects, including tunnel construction, groundwater detection, geothermal exploration and underground storage for spent nuclear fuel.
Neto is being acquired by Maropost for AU$60 million. Telstra-backed Neto is a Brisbane-based ecommerce platform that helps retailers and wholesalers sell online via multiple channels. Maropost is a Toronto-based firm that specializes in automating email, SMS and other channels. We have spoken endlessly about Covid tailwinds fuelling ecommerce – now Maropost is swooping in.
Ringing the bell. AirTasker (Monday) and MadPaws (Friday) are listing next week. Camplify (the airbnb for campervans) is preparing to list.
Culture Amp opened its books. Revenue increased by 64% to $45.8m in 2020, but it is still burning through cash, posting a $44m loss. It may be prime time for the company to start eyeing an IPO…
CBA chasing millennial customers. CBA launched a BNPL product – "CommBank BNPL". Does what it says on the tin. This comes after they released a no interest credit card, Neo, last year. If only they could invest the same effort in simply improving its call centre experience (or better yet, improve online functionality to avoid the need to call) – their Twitter is full of angry customers waiting hours on hold. For this generation in particular, customer experience is everything.
Accelerators for under-represented founders. Tech Ready Women is starting soon and looking for participants for its 8 week startup program. One starts in April, another in June. Applications for the first cohort are now open. Catalysr is running a 12-week pre-accelerator program to help migrants and refugees. Applications for the free pre-accelerator program close Sunday 28 March.
---
VC land expands
Square Peg goes public. At one of the end of the spectrum, Square Peg invests in pre-launch, pre-revenue startups like Zeller (a FinTech who this week announced it had raised $31m in total last year). Now at completely the other end, it announced it will start investing in global listed companies with a new Global Tech Fund. Cofounder Paul Bassat is also on the investment committee of the Orca Global Disruption Fund.
Perhaps they can learn from the wise words of TikTokInvestors – buy on the way up, sell on the way down 
AfterWork Ventures launched. AfterWork was founded by four guys (yes, another all-male fund) who started by angel investing micro-cheques in startups, expanded to a $1m proof of concept fund, and now are raising their first fund focussed on pre-seed and seed stage investments in ANZ. They're planning on being operator-orientated (a la Andreessen Horowitz). We like this post on "What VC investors aren't saying when they say no." If you're raising capital and not overly familiar with the way VCs operate, this is a must-read.
Investible is raising a new $50m fund.
---
Billions*
The latest unicorn, decacorn and (almost) hectocorns.
*Also a great TV series
Stripe raised $600m at a $95b valuation. That's <1% dilution! From the archives: why we love Stripe.
"Stripe itself is now bigger [by payment volumes] than the entire ecommerce market was when we started working on Stripe" https://t.co/9qiIee38CL

— Alex Heath (@alexeheath) March 14, 2021
AirTable
raised $270m
 at a $5.77b valuation. No-code FTW.
Squarespace
raised $300m
 at a $10b valuation. More no-code! Competitor Wix currently has a market cap of $16b.
Trading platform eToro is SPACing with a proposed valuation of at least $10b. Interesting investor presentation – founded in 2007, 2020 revenue was $605m (147% YoY growth), $95m EBITDA, 18.7m users and 1.2m funded accounts (predominantly in Europe).
Food ordering platform, Olo listed at a valuation of $3.6b. In 2020, net sales nearly doubled to $98.4m, with a $3.06m profit.
Fresh unicorns: SecurityScorecard, developer of a platform for predicting and remediating security risks, raised $180M. E-commerce marketing platform Yotpo raised $230M led by BVP and Tiger at a $1.4B valuation. AI patent intelligence platform PatSnap raised $300M from SoftBank Vision Fund and Tencent.
---
Flourishing ecosystems & empires
This week's flurry of ecosystem-related celebrations
HubSpot's multi-billion dollar ecosystem. Hubspot recently surpassed 100,000 paying customers, 600 integrations and has reached $1 billion in annual recurring revenue. For every $1 of revenue, it says its ecosystem earns $5.60.
A blossoming martech platform: @IDC sizes the @HubSpot ecosystem at $6.4 billion this year, $12.5 billion in 2024 https://t.co/AUyzmOtScU #martech

For every $1 of HubSpot revenue this year, companies in our ecosystem will collectively earn $5.60.

In 2024, they'll earn $6.16. pic.twitter.com/ZxaLEKmsIG

— Scott Brinker (@chiefmartec) March 15, 2021
Spotify paid artists $5B+ in 2020 – 20% of global music industry revenue. It launched a new site to increase transparency on the complicated economics of music streaming.
Since its 2014 low, the music industry has grown by 44%, driven primarily by streaming revenues which increased 500% over this same period. In 2020 alone, Spotify paid $5B+ and makes up about 20% of global recorded music industry revenue, more than any other streaming service. ⬇️ pic.twitter.com/fkfmllXFY9

— Daniel Ek (@eldsjal) March 18, 2021
Appfire's Atlassian app marketplace roll up. Appfire, which makes apps for Atlassian's app marketplace, raised $100m. Appfire has been busy acquiring companies (one ever six to eight weeks!) in the Atlassian ecosystem including Botron, Beecom, Innovalog, Navarambh, Artemis and Bolo.
Google will cut Play Store commission in half to 15% (for the first US$1 million in sales only).
Big money in Amazon Ads. According to analyst extraordinaire Benedict Evans, Amazon's Ads business (US$15-20bn) is equally or more profitable than AWS.
Facebook casts its net wider. Zucks announced the company has more than 1 million active shops and more than 250 million people actively interacting with those shops every month. Meanwhile it's also working on Instagram for children(!?), a Substack-like publisher platform where writers and journalists can monetise their work, and, to lessen its dependence on Apple and Google, it is investing heavily (10,000 people to be precise) in creating the "next major computing platform, [a] combination of augmented and virtual reality, to make sure that it develops in this way that is fundamentally about people being present with each other and coming together." To that end, it unveiled a wearable wrist sensor that turns nerve signals into digital commands:
---
Other tidbits
Snap acquired Fit Analytics, a startup based in Berlin that has built technology to help shoppers find the right-sized apparel and footwear from online retailers. It also provides retailers with analytics to help them figure out how to sell more.
Open sorcery. Open source database-as-a-service vendor, Instaclustr is acquiring credativ, a consulting firm that provides expertise and support for key open source data-layer technologies including PostgreSQL, Kubernetes, Debian. Bailador are an early investor.
Andreessen Horowitz made its first NFT bet, leading a $23 million round for OpenSea, an NFT marketplace.
Quid pro quo. Uber UK announced it will pay people-carrying drivers a minimum wage, holiday pay and pensions – this comes after the Supreme Court ruled it had to because its drivers were workers, not self-employed contractors, not because it actually wants to. The minimum wage only kicks in after accepting a trip request and after expenses (not for wait times). Will this shift have far reaching consequences for the gig economy?
---
Happy 15th birthday Kogan!
Bring back the Guerrilla marketing, we say. Take a trip down memory lane:
The bricks and mortar pop up store with internet features
"We're rising prices to pay for this ad"
The internet portal filter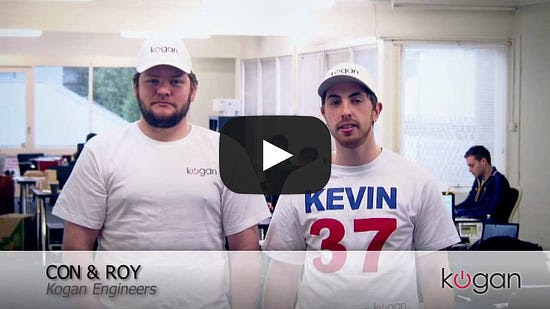 ---
That's a wrap! We hope you enjoyed it.
Join us on Clubhouse, 8.30am Tuesday.
Bex, Gavin and the team at Ignition Lane